Local Union #24 I.B.E.W. held an election of local officers on Saturday, June 11, 2016. The results of the voting, as certified by Election Judge Brother Steven W. Smith, are as follows: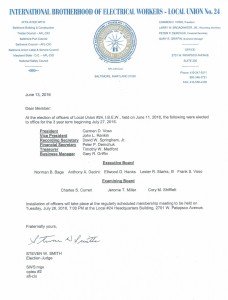 President                     Carmen D. Voso
Vice President                  John L. Rankin
Recording Secretary     David W. Springham, Jr.
Financial Secretary        Peter P. Demchuk
Treasurer                            Timothy W. Medford
Business Manager           Gary R. Griffin
Executive Board
Norman B. Bage   Anthony A. Decint   Ellwood G. Hanks   Lester R. Starks, III  Frank S. Voso
Examining Board
Charles S. Curreri           Jerome T. Miller           Cory M. Shifflett
These members were elected to office for the 3 year term beginning July 27, 2016.
Installation of officers will take place at the regularly scheduled membership meeting to be held on Tuesday, July 26, 2016, 7:00 PM at the Local #24 Headquarters Building, 2701 W. Patapsco Avenue.