Build a Career – Earn While you Learn!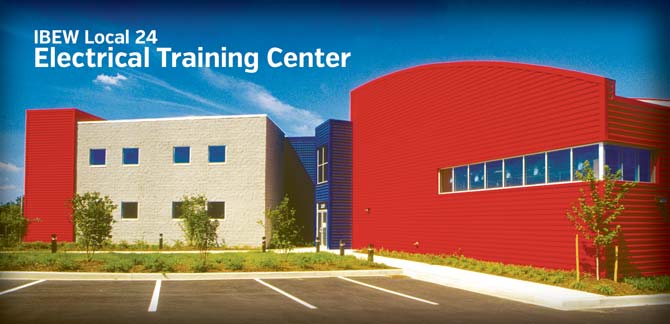 IBEW Local 24 and the Maryland Chapter, National Electrical Contractors Association (NECA), sponsor unsurpassed training programs for our members and apprentices through our Joint Apprenticeship and Training Committee (J.A.T.C.).
Through the J.A.T.C., Local 24 apprentices are trained and prepared for meaningful and rewarding careers as union electricians and technicians.
With our state-of-the-art training facility, Local 24 offers an educational program approved by the Bureau of Apprenticeship, U.S. Department of Labor, and the Maryland Apprenticeship and Training Council.
Through coursework – which is offered through day school – and on-the-job training, students earn while they learn while also receiving many additional benefits, including:
Free schooling
Family health care
Pensions
Annuity (Retirement Investment)
Our J.A.T.C. also offers construction electrician upgrade classes and continuing education courses for journeymen.
Career Paths
Electrical
Local 24's Electrical Apprenticeship Program allows participants to earn competitive wages and benefits as they learn through on-the-job training and classroom instruction to be highly-skilled, well-paid electricians.
Voice/Data/Video
Local 24's Voice/Data/Video Apprenticeship Program allows graduates to become telecommunications installer/technicians while receiving free on-the-job training and earning decent wages while in school.
For more information, call our Baltimore Electrical J.A.T.C. office at (410) 247-3313 or (800) 910-JATC, or visit www.jatc24.org.