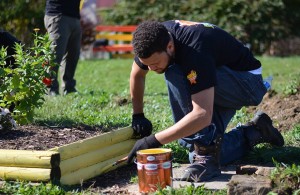 On October 18th, IBEW locals across the country participated in neighborhood improvement projects during the "IBEW Day of Action."
Members of Local 24 joined the McElderry Park Community  for a "Day of Action" to help revitalize a local, historic neighborhood located in the East Monument Historic District. Over 50 volunteers joined together to clean the alleys, trench a new drain for the community center, trim back the trees from the community center, paint the flower beds, and prepare the community garden for winter.
Local 24 would like to thank Senator Mikulski's office for joining our "Day of Action," as well as McElederry Park Community Association President Glenn Ross and all the volunteers that gave up their time to empower the community. 
At every opportunity, IBEW Local 24 works to give back to our communities that have supported us for over 100 years.
More photos from the day's events can be viewed in our photo gallery on Facebook.