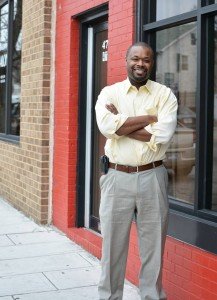 Cory McCray, an organizer with IBEW Local 24, was elected to the Maryland House of Delegates from the 45th District earlier this month. 
Throughout his campaign, Cory stressed the importance of strengthening union apprenticeship programs in order to ensure city residents have the necessary skills to do the jobs that are coming to their neighborhoods.
Besides being a vital member of Local 24, Cory is a community leader in Northeast Baltimore's Overlea neighborhood. Along with other community leaders, he formed the BEST Democratic Club to encourage young people in East Baltimore to get involved in politics. The group now has more than 500 members.
Cory defeated five challengers in last June's primary  by "combining a broad outreach strategy focused on social media for younger voters and a more targeted effort for long-term, older voters," according to The Baltimore Afro-American. 
All of us at Local 24 would like to thank all the members, friends and family who have supported this campaign – we know Cory will work hard and make our community proud!