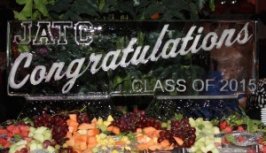 Where do the best new electricians come from?
They come from a union apprenticeship program!
Local 24 congratulates the newly-minted Journeyman Wiremen in this video, who "topped out" this year. May they enjoy a long, rewarding career in the electrical industry, and stay safe on the job and off.
The members of the Summer 2015 graduating class of the Joint Apprenticeship and Training Committee program for the Maryland Electrical Industry are:
Balfour E. Albacarys-Roop
Christopher M. Griffith
David R. Oberlin
Christopher S. Allen
Jason E. Hare
Michael A. Pace
Jamal W. Austin
Keith T. Hood, Jr.
Brogan M. Paolini
Joseph M. Baker
Philip P. Johns, Jr.
Andreas V. Psaromatis
Stephen M. Berger
Sean P. Karwacki
Jason M. Roberts
Lawrence P. Blevins
Daniel J. Kaskel
Gilbert C. Robinson
Matthew B. Bradford
Gavin P. Kelly
Artem Rochitskiy
Major A. Byrd, Jr.
Jacob C. Lacey
Chad D. Rutherford
Jason L. Camphor
Chad M. Lehmann
Chad A. Stark
Allen M. Capps
William P. Lissauer
Augustine J. Velenovsky
Ryan P. Connelly
Robert L. Lovett, Jr.
Andrew D. Voigt
Richard H. Eveson, Jr.
Michael S. McFarland II
Donte L. Ward
Jonathan V. Fletcher
Patrick J. McNamara
Adam J. Whidby
Joseph R. Frazier
Jason A. Miller
Matthew D. Zembower, Jr
Dwayne T. Gardner, Jr.
The Joint Apprenticeship & Training Committee for the Maryland Electrical Industry is sponsored by IBEW Local 24 and the Maryland Chapter of the National Association of Electrical Contractors.
View photos from the graduation ceremony below and learn more about our training opportunities here.