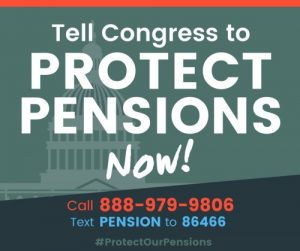 Local 24's leadership is gathering as many people as possible to participate in a rally at the US Capitol in Washington, D.C. on Wednesday, July 10, 2019 at 9 a.m. The rally is in support of H.R. 397, the Rehabilitation for Multiemployer Pensions Act, which would establish a safety net for pension plans that are struggling.
Local 24 members are fortunate to be part of a pension plan that is healthy, properly funded and in the "green" zone. However, union members across the country are facing a national crisis as more than a hundred multiemployer pension plans face the threat of collapse within the next 10 years.
H.R. 397 establishes the Pension Rehabilitation Administration within the Department of the Treasury and a related trust fund to make loans to certain multiemployer defined benefit pension plans.
To receive a loan, a plan must be either in critical and declining status (including any plan with respect to which a suspension of benefits has been approved) or insolvent, if the plan became insolvent after December 16, 2014, and has not been terminated.
Treasury must issue bonds to fund the loan program and transfer amounts equal to the proceeds to the trust fund established by this bill. The Pension Rehabilitation Administration may use the funds, without a further appropriation, to make loans, pay principal and interest on the bonds, or for administrative and operating expenses.
WE NEED YOU to stand with your labor brothers and sisters and millions of Americans facing an uncertain future as their retirement security is threatened through no fault of their own.
PLEASE CALL THE HALL TO PARTICIPATE IN THIS IMPORTANT RALLY  – 410 247-5511