Local 24 members and leaders will be gathering in Annapolis on Monday night, March 21, 2016 for the annual Labor Night in Annapolis.
Planned by the Metropolitan Baltimore Central Labor Council, this event brings together union members from all sectors, including the Building Trades and public and private sector workers.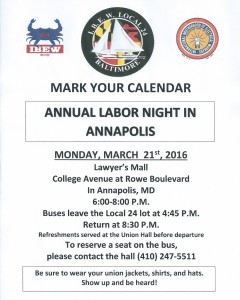 Through our presence in numbers, as well as the messages delivered by local union leaders and scheduled speakers, union members are able to let our elected representatives in the Maryland House of Delegates know how we feel on bills related to issues including
Prevailing wage laws
"Right to Work" (for less) legislation
Workers safety and more
Make plans to join the Rally and strengthen the voice of Maryland's working people. You can meet with other members at the Hall in Baltimore and ride into Annapolis on buses, or if it's easier just meet the group at Lawyer's Mall in Annapolis at 6PM. Wear your union jackets, shirts and hats to show that you are a proud member of Local 24!