"American workers are the heart of the Biden-Harris administration, and the IBEW Government Affairs Newsletter reflects the multitude of ways its policies are helping the middle class prosper and grow,"

I.B.E.W. International President Kenneth Cooper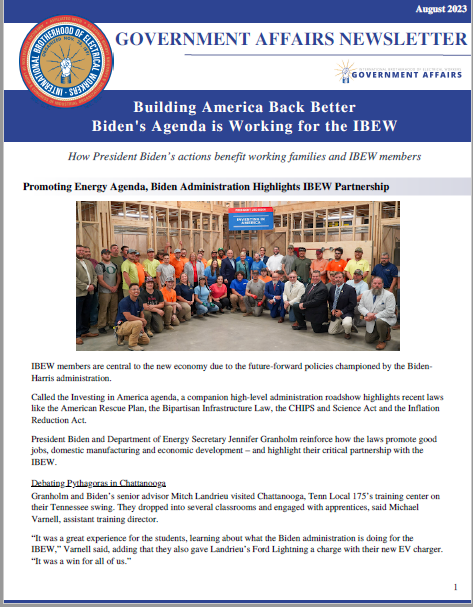 Since the earliest days of the Biden-Harris administration, the IBEW has been among the staunchest supporters of the Build America Back Better plan and has endeavored to keep members informed about the presidential administration.
To that end, a new website and newsletter have recently been developed by the IBEW Government Affairs Department. These are great new tools that IBEW members can use to stay informed about what the current administration is doing to benefit us and all working people.
Check out the August 2023 edition of the Government Affairs Newsletter or visit the new website at ibewgov.org.
In a letter to IBEW staff and business managers, International President Cooper said "Every day, President Biden recognizes the priority of American workers, collective bargaining, and the labor movement. Whether he is expressing his support for a historic organizing campaign or appointing union members as key personnel in his administration, never has a president been so public in their support of the values that the IBEW holds dear."